The Ohio Medicinal Marijuana Control Program released it's weekly sales figures Monday for Medicinal Marijuana throughout Ohio. Since the controversial drug became available on Jan. 16, it has sold just under three million dollars worth of medicinal marijuana. These low numbers are raising questions about the drug's future viability in the Buckeye State.
In total, $2.9 million worth of medicinal marijuana has been sold since January. This comes out to 382 pounds of actual marijuana. While still a significant amount, these numbers are far off what was projected.
In June of 2018, trade publication Marijuana Business Daily was projecting that Ohio would be among the largest marijuana markets in the country with the most conservative projections expecting more than $3oo million in sales and half-a-billion dollars by the most generous.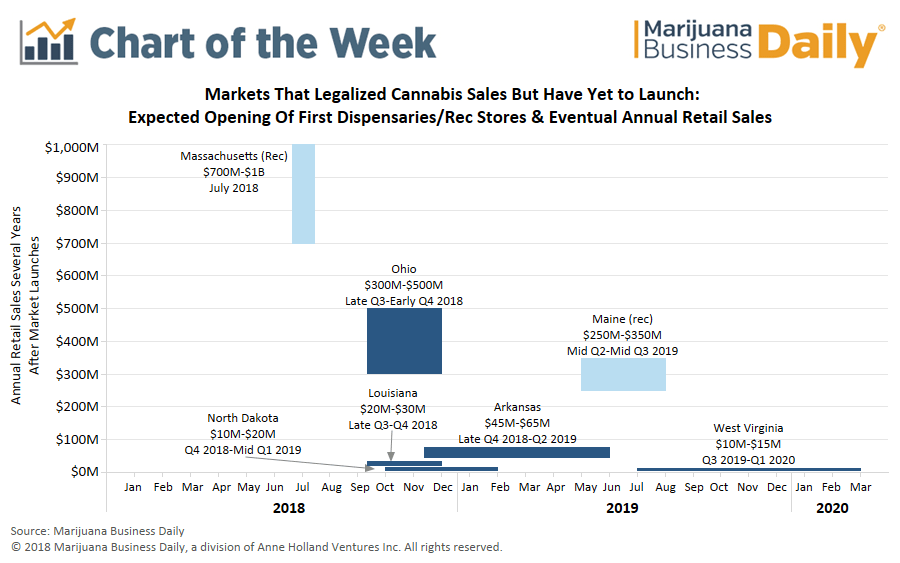 While medicinal marijuana still has plenty of time to make up the difference, there are a number of factors that may continue to hobble the fledgling industry in the coming months.
Of all the 22,276 Ohioans registered and recommended to use medicinal marijuana, only 28 percent actually purchased marijuana. there are currently thirteen open dispensaries spread out through the state. While many of these individuals may not have easy access to one of these locations, a total of 56 dispensaries are expected to before the fiscal year's end. However, this won't necessarily solve the great issue of price.
Currently, an ounce of medicinal marijuana with taxes, fees, and other costs included goes for $472 dollars in Ohio. By comparison, an assessment in mid-March found that border-state Michigan's medicinal marijuana sells for more than a hundred dollars less than in Ohio. This has created a miniature "trafficking black market" in which individuals, many of whom are cleared to purchase medicinal marijuana legally in Ohio are driving to Michigan and smuggling it back into the state.
However, industry experts maintain that these high prices are common in raw markets. They assert that as the process normalizes and more dispensaries open, prices will begin to drop:
Pennsylvania – a developing market entering its second year of medical sales – averages $480 per ounce while the mature medical markets in Massachusetts ($350 per ounce) and Illinois ($375 an ounce) are much lower.
While this perspective alleviates the concerns of many, Ohio has its own unique issues that may hobble production.
As previously reported, "Of the 32 states in which medicinal marijuana is sold, Ohio has some of the most stringent requirements and regulations. Each business must account for and comply with regulations at every stage of the development process. In addition, they must be able to digitally track and account for every plant developed." These standards are understandable when legalizing a product like marijuana, but the hope is that the will ease in the coming months.
 – – –
Andrew Shirley is a reporter at Battleground State News and The Ohio Star. Send tips to [email protected].
Photo "Medical Marijuana Store" by © O'Dea at Wikimedia Commons, CC BY-SA 4.0